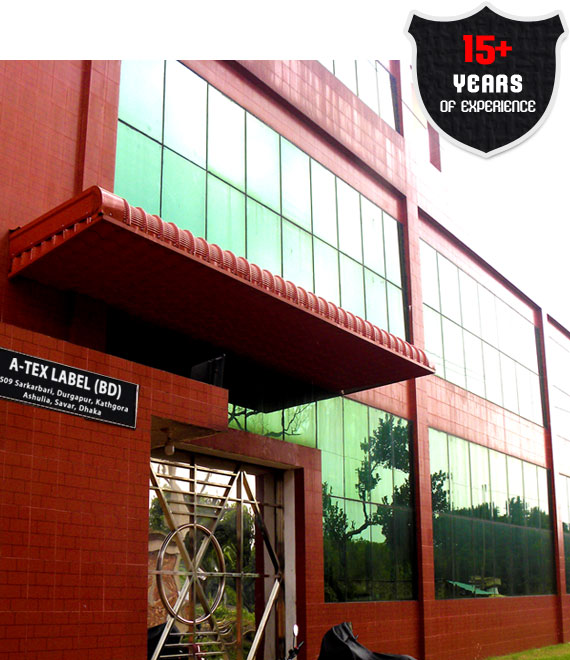 ABOUT A-TEX LABEL (BD) LIMITED
We understand the importance of innovation and professionalism
Since 2004, A-Tex Label Industries Ltd. has been running as one of the leading trims & accessories manufacturer & supplier in Bangladesh. in 2015, A-TEX Label (BD) Ltd., a high class RMG trims & accessories manufacturer as well as supplier and a sister concern of A-Tex  Industries Ltd. was established with a greener vision. From day one, A-TEX has been focused on quality, Delivery on time & perfection. It has achieved the success of working with renowned brands like TOM TAILOR, TOM TAILOR DENIM, LERROS, etc. 16 years of refined experience of A-TEX and coordination achieved through the owners and key persons of A-TEX Label (BD) Ltd. who are in the field for over two decades gives us strong foundation for consistent efficient performance.
A-TEX LABEL (BD) LIMITED is a blending of Technology, Expertise and Innovative Operational Skills.
These lets us to maintain the product standard, production accuracy, adequate quality and on time delivery for our clients/buyers satisfaction. In terms of price/cost minimization, we are solvent in every way. Our Sourcing and/or Logistic support has charismatic capability in cost management.
Message from the Chairman
Welcome to A-TEX LABEL (BD) LTD. Of A-TEX LABEL (BD) LTD. is committed to minimize the impact on the environment. We integrate sustainable practices in all manufacturing facilities. From day first, increasing challenges in the market. we always committed to increase of qualities to achieve client's satisfaction. Using state-of-art machinery on every stage of the productions as well as trained, experienced and dedicated workers, we already meet the challenges of international Garments products.