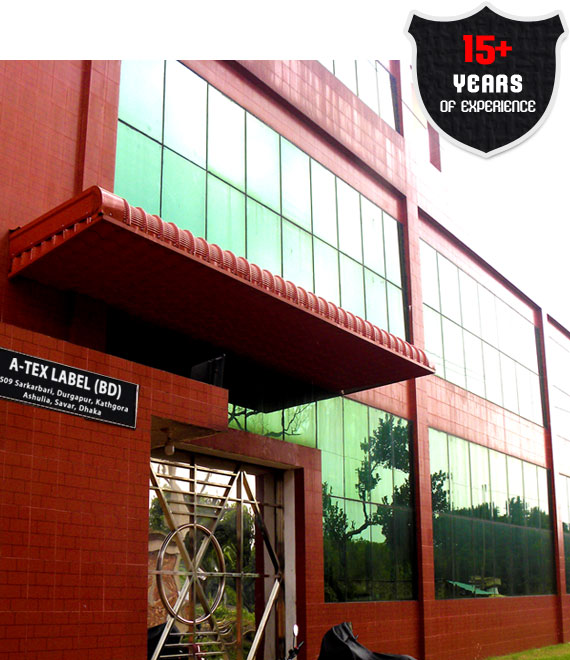 ABOUT A-TEX LABEL (BD) LIMITED
We Stand Out for Our Professionalism and Quality Products and Services
About 6 years now, A-TEX Label (BD) Ltd. has been developing and refining brands, mainly in the apparel fashion industry. We are the global destination for trims, branded packaging and supply chain solutions. It was intercepted in the year 2015 as Trims and Accessories firm, and we have quickly evolved to be the most trusted solution provider with comprehensive expertise in matters apparel accessories.
Since our establishment in 2015, we started our journey before in 2004 as a sister concern of A-Tex Label Industries Ltd. Now, we have established ourselves as a finest Trims and Accessories manufacturer based in Bangladesh to provide our services around the globe.
Sustainable Trims and Accessories Solutions
One of the things that makes A-TEX Label (BD) Ltd. go-to Label Printing for all the manufacturing and supplier of brand concepts, products, and graphics solutions to all the successful partners in the general retail supply chain is the fact that they are dedicated to sustainable trims and accessories. Our experienced production and service teams work closely with clients to offer high-quality brand solutions, from Heat Transfer Label, to Woven Label, and all Label solutions.
We strictly follow all the company environmental regulations regarding the Peoples Republic of Bangladesh.
A-TEX LABEL (BD) LIMITED is a blending of Technology, Expertise and Innovative Operational Skills.
These lets us to maintain the product standard, production accuracy, adequate quality and on time delivery for our clients/buyers satisfaction. In terms of price/cost minimization, we are solvent in every way. Our Sourcing and/or Logistic support has charismatic capability in cost management.
Message from the Chairman
Welcome to A-TEX LABEL (BD) LTD. Of A-TEX LABEL (BD) LTD. is committed to minimize the impact on the environment. We integrate sustainable practices in all manufacturing facilities. From day first, increasing challenges in the market. we always committed to increase of qualities to achieve client's satisfaction. Using state-of-art machinery on every stage of the productions as well as trained, experienced and dedicated workers, we already meet the challenges of international Garments products.